Chicago Mom and Ghostwriter of @.l.interpretations Pens New Childrens e-Book Told from Childs Point-of-View, Expresses Angst over Parents Arguing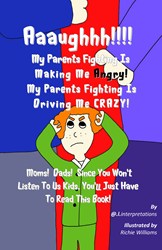 Chicago, IL (PRWEB) July 29, 2013
Story-time before a childs bedtime usually involves a great adventure in a land far, far away, which usually results in children mostly drifting into a serene sleep due to their trip. New childrens e-Book, Aaaughhh!!!! My Parents Fighting Is Making Me Angry! My Parents Fighting Is Driving Me CRAZY! provides adventure of another sort: encouraging dialogue between parents and their children on the effects of arguing in front of their children and how it makes their children feel.
Chicago mom Annesa L Lacey of @.l.interpretations, a B2B PR & digital publishing consultancy, ghostwrites for small businesses. She is also a published Amazon Kindle author, usually focusing on spreading brand awareness for fellow small brands or writing about customer relationship management. What does a childrens book have to do with B2B e-Book publishing? Although supporting small business initiatives is the main focus of @.l.interpretations, Lacey still felt compelled to add to the versatility of her publishing arsenal.
This book is to help parents remember that no childs first lesson in warfare should begin at home. Thats it. Nothing else. This book is told from a childs vantage-point because it should be the most valued point-of-view there is. In fact, the adults' faces arent even illustrated in this book. Like Charlie Brown cartoons, adults are acknowledged, but its all about the children, Lacey said.
Aaaughhh!!! is also told from personal experience. Laceys own parents split when she was only seven years old, and she divorced her ex-husband when her own daughter was only five. Laceys daughter, now 17, who Lacey calls a great-natured kid who looks out for her fellow man and is always laughing, has certainly come a long way.
By grace, my daughter has long overcome the combative atmosphere she was momentarily accustomed to living in, along with the respiratory issues she was born with. My wake-up call came one day when my daughter was just four years old. She decided to assert authority over her parents demanding that my ex-husband and I be quiet. Our divorce loomed over our daughters entire nursery and kindergarten school years, so she definitely had her fill of our bickering in front of her, though never intentional.
Aaaughhh!!!! is simply to warn parents against having intense discussions near their children, something Lacey will always regret, but is redeemed by not only her daughters forgiveness, but also being a helicopter mom over her daughters overall well-being.
Thats why this book is written from a childs point-of-view. I want kids everywhere to have a voice and for parents to let their kids know their opinions matter. Their feelings matter. Dont wait until its too late before your child hears that from you, Lacey said.
You wont catch my kid on Dr. Phil for any intervention. Since she was small, I had to learn to just look into my kids eyes (and track her Instagram, Twitter, tumblr and Facebook accounts!) and talk to her, Lacey laughs. Since then, Ive learned to hold my tongue, as well as let her know that her opinion counts, she added.
Parents, lets keep the peace and let our littlest (or tallest) ones know that we value their input. Aaaughhh!!!! is available for direct download on any e-Reader for only $ 7.99 through @.l.interpretations.
For more information on @.l.interpretations versatile approach towards supporting small business initiatives or reaching the masses for personal enjoyment, contact Lacey at 773-570-4832 or visit alinterpretations.com. Follow @.l.interpretations on Twitter or Like on Facebook.
Press Contact:

Contact: Annesa L Lacey

@.l.interpretations

P.O. Box 2315

Chicago, IL 60690-2315

773-570-4832

alacey(at)alinterpretations(dot)com